Is Being Found by Potential Customers Searching Online Important To Your Business?
According to Google…
Local searches from Mobile devices are growing at 146% every year and "Near Me"searches have nearly doubled. Your potential customers want to find answers right at that moment of decision or you lose that customer to your competition!
How Can We Help You Take Control of Your Online Business Information Using Google Citations?
Without a strong online footprint your business is invisible to most of your prospective customers searching online ready to do business!
Often overlooked and misunderstood your Google Maps and Business Listings have a huge influence on Rankings and Lead Generation!
Increase your rank in Google with our Local Listing GoldMine Service!
The 3 Google Local Listing Rank Killers!
Inaccurate Business Listings & Citations
Not Enough Business Listings & Citations
Poor Quality Business Listings & Citations
Every local business needs an accurate and diverse portfolio of Local Business Listings and Google Citations to compete online. The Video below explains why!
How Accurate is Your Business Information across the Web?
Google uses quite a few ranking signals to determine which local businesses get displayed on page one of the search results. Those businesses see a huge increase in phone calls and leads.
One of the biggest signals Google looks at is your online business listings and Google citations. Being in the right directories and having accurate information has a huge impact when it comes to ranking your business on page one of the local Google search results. Learn more about Location Data Management
---
I put up a post several years ago that explains what a Google Citation is and why it is so important to your business when it comes to ranking on page one of Google.
Check out my Google Citation article here or Go to Google and put in the search term "what is a Google Citation" You will see that out of 58 million results Google put it in a Google Snippet at the top of page one.
---
Now that you understand what Google Citations are and how important it is to have a good local business listing profile, the question is, how do you get this enormous task done? 
Do it yourself? – This will take weeks maybe months and you must know how to find the best Google Citations and business directories, both national, local, and industry related.
Hire a cheap automated service? – You get what you pay for, and will end up with inaccurate data, a bunch of crappy listings and in many cases automated tools miss important stuff like duplicate listings and inaccurate data. You may save money but it won't help you rank.
Hire a big expensive company like YEXT? – Yext is very expensive and quite frankly not a good value for what you receive. The worst part is, you must renew for around $500.00 every year or you lose your listings. In other words, you don't own your listings and must keep paying Yext every year or they take them down.
Local Listing GoldMine is the smart choice for local businesses that want results!
Better Results than YEXT at a Fraction of the Cost!
Local Listing GoldMine is designed to help your local business get more local listings and put you on the Google Maps without the huge price tag.
Large local business listing and Citation services like Yext, over charge and under deliver compared to what we provide when it comes to increasing your online presence in your local market area.
The Local Listing & Google Citation Difference:
More carefully placed business listings – not only do we create local business listings in the big authority local data sites, we also search your local market to hand select local  websites to create what we call hyper-local citations.
One time payment – Too many services want to hit you with yearly renewal fees and if you don't renew, guess what? You lose your citations and must start all over again. Services like YEXT charge your business a whopping $500 every year. Try to cancel and they pull your listings!
Permanent Listings – Once we manually build your local business listings they stay there.
You own and control all your listings – forget about a yearly renewal fee, because once we build them, you own and control them forever. In other words, you have access to your business listing accounts and do not have to chase us to make a change.
What You Get With Local Listing GoldMine
Having a strong and accurate local business listing and Google Citation profile is extremely important if you want your business to be seen online by more prospective customers interested in your products and services.
Regardless if you are single location, service area business, or have multiple locations you must focus on what info about your business is on the Internet and what searchers are seeing. Do nothing and your competition will continue to steal customers from you.
Here is exactly how we provide a superior service at an affordable one time cost.
Major Authority Listings and Citations
Submission to The Big Three Data Aggregators
Infogroup
Acxiom
Factual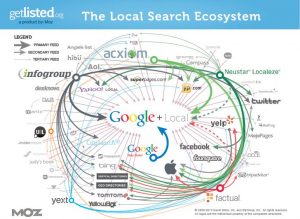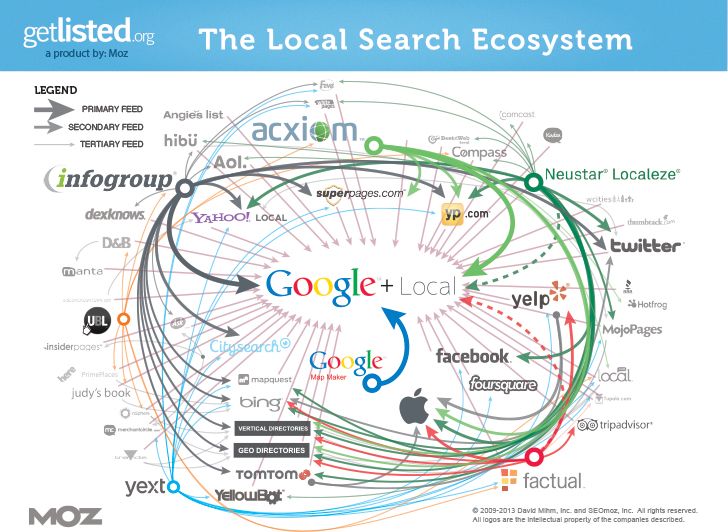 THE BIG 

3 DATA AGGREGATORS
You may have seen this infographic put together by GetListed.org. It shows first-hand the kind of power the large data aggregators have over all other citation sites.
We submit your business data to the 3 most influential data aggregators. These 3 powerful data feeds push your business info over to 23 other major sites like Google Maps, AOL Local, Apple / Siri, and many others you've heard of. If your business information is not included in the databases of these major data providers, you might not be able to rank as easily in Google, Yahoo, and Bing.
According to data from GetListed.org and WhiteSpark (see the Best Sources for Local Citations by City) the list below makes up some of the most important business links and citations a business can get online.
We verify that your business is listed on these sites below and if needed, we create a listing for you.
1. Citysearch
2. Bing Local
3. Facebook
4. Hotfrog
5. BBB
6. Superpages
7. Yelp
8. Yahoo Local
9. ChamberofCommerce
10. Yellow Pages
11. Manta
12. DexKnows
13. Yellowbot
14. Mojopages
15. Foursquare
16. Elocal
17. Insiderpages
18. D&B
19. MerchantCircle
20. YP
21. Mapquest
22. BestoftheWeb Local
---

Custom Built

 

Hyper-Local Citations

 For Your Niche and City
Google is looking for listings and Citations that are relevant to your industry as well as your location. Most services like YEXT only build Citations from the major websites that we listed above.
Well, we do that for you also but we go further by manually finding valuable niche and local business listings and Citations right in your area.
The first thing we do is research your top competitors and find the best industry related and local citations in your target markets.
This sends a strong message to Google that you are indeed a local business.
The Big Citations are important, but adding hyper local citations gives your business the competitive edge it needs to rank on page one of the Google local results pages.
---
We Get Your New Business Listings and Citations Indexed Fast by Google!
Millions of listings and web pages are posted everyday, and quite frankly, many of them will never be indexed by Google, or may takes months for Google to find them.
In other words, your new business listings and citations may be lost in cyber-space never having a positive impact on your rankings.
Over the years we have discovered that link indexing services come and go, so we take the top 6 indexing sources and push all of your new business listing and citation links into our indexing software.
This means Google is exposed to all your new links and listings at a much faster rate and in a way, we are forcing Google to index them.
Most listing and Citation services build you listings and citations but fail to push them into the Google index!
---
Before You Buy

Yext

Business Listing Services
If you are considering signing on with Yext business listing services you may want to do some comparison shopping first.
First of all, we are not here to trash Yext. They are a good service, but we feel are way overpriced for what you receive. Business listing and Citation building should be a one time investment for business owners.
Your Business Listing and Citation Ownership
Yext

– You do not own your business listings. In fact, if you do not renew every year, they will pull down your listings and you will have to start over.
Local Listing GoldMine – You own the listings we build for you. When we set up your business listings and Citations, we create each account under your name and provide you with a username/password to all of the listings. The listings are yours and you do not need to renew every year to keep them active.
High Value Business Listings and Citations manually created
Sorry, but automated tools can miss important things. They often have trouble finding duplicate listings, and often overlook inaccurate data in your listings. Local Listing Goldmine has a team of Citation experts that do everything manually to ensure that your business listings are done correctly and get indexed by Google fast.
High Quality Listings and Citations
Yext puts you in around 55-60 business listing sites and so do we. The big differences are, we also build you local citations specific to websites in your market area and of course, the cost of our service to you is much lower! As a local business you need local Citations!
---
What is the Cost of our Local Business Listing and Citation Building Service and what do you get?
 One Time cost of

$399.00 per location
Top authority 25 Citation sites and 40 hyper local citation sites – Yext does not do local citations.
One time payment –

no yearly renewal like Yext

You own your listings –

If you cancel Yext you lose your listings

Highest Quality Citation listings – We hand pick the top authority sites, the big 3 data aggregators and the top local cititations for your market.
Correct bad or old data and find duplicates – Yext automates this process which may miss important data problems.
Manual submissions – Although it takes a little longer it ensures no mistakes unlike Yext that does everything automated.
Index new listings in Google – We submit every new listing into our 6 indexing sites. Yext will get some of your listings indexed.
Advanced Local Listing and Citation Package – add $99.00
If you do business in a highly competitive area or you are a new business just getting your online presence felt you may want to up you game by adding additional Hyper Local Citations. This is highly effective when you need a big push and want to send a clear message to Google that you are who you say you are.
Add 40 more local hand picked Citations for an additional $99.00
These extra citations will also be pushed through our rapid indexing software to ensure that Google gets them in their index faster.
Multiple Business Location Special Pricing
Are you a large Company with multiple locations around the city, or country? It is important to understand that every location must have its own business listing and Citation portfolio. Whether you have 500 locations or 5 locations we can put together a package that gets the job done and fits your budget.
For a custom multi-location price quote contact us direct.
---
Let's Get Started!

Time is money, and waiting is not going to help your online presence.
Once you have decided you want the high quality results we provide without the expensive yearly renewal charges, just fill out the form below and we will get you started.
When you sign up for Local Listing Goldmine, this is what happens next:
After you make payment, we will email you a Local Business Information Form where you will submit your correct information including your exact business name, address, telephone number, website, description, hours, photos and more.
We then take your information and business listing and citation specialists will review it to ensure that the information you provide matches your business name, phone number, and address on your Google My Business Listing. If we find non matching info or duplicate listings, we will notify you to make sure the info is all congruent before we start the submission process.
Then we manually submit your local business info to the main Citation sources and create a portfolio of niche and location citations and index them with Google.
Last, we send you a report with usernames and passwords in a spreadsheet, usually within 14-21 days.
There are several business listng sources that will require phone verification to get it completed. We will notify you so you can do the verification. We can't answer your business phone when they call so you must handle that part.
Let's get Started!
Once you sign up and make payment, we will send you a form to fill out containing the important information we need about your business. Once we receive your information, we will verify the info, and place your project in our work que.
Over the next 2 weeks our Citation building specialists will work on your project, and email you a  spreadsheet with all of your usernames and passwords!
Questions? Call Jeffrey Taylor Direct (904) 796-8527