Using the Power of SEO and Local Online Marketing to Attract More Patients to your Dermatology Office!
Local Internet marketing and search engine optimization for a Dermatologist is actually not as complicated as it may seem. Prospective patients go online and search for specific treatments, in specific areas and if your practice shows up on page one of Google, you have an opportunity to reach them and compel them to contact you.
If you do not show up on page one, one of your competitors will take your place.
Putting your Dermatology practice on page one of Google can be accomplished in 2 ways.
You can buy Pay Per Click (Google Adwords) and bid on specific keywords related to your business. The dirty little secret Google does not want you to know is that only around 15-18% of searchers click on paid ads.
You can optimize your website, Google Local Business Listing, and create compelling content to grab what are known as organic search rankings in the Google local search results.
Keyword Search For "Dermatologist Virginia Beach"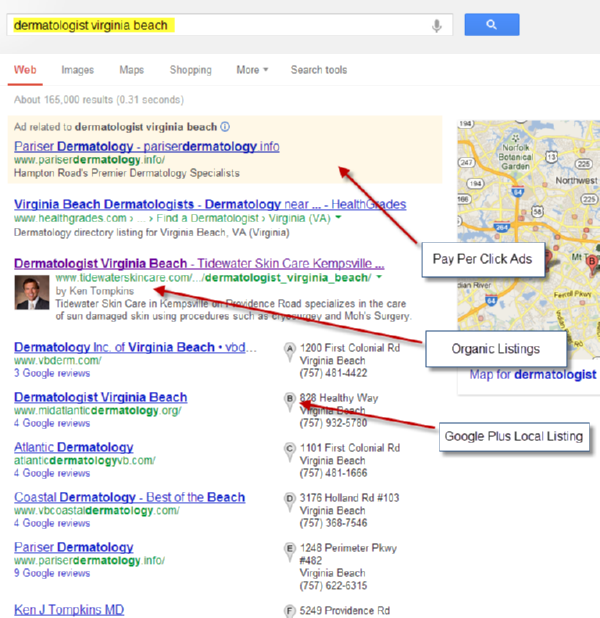 Click image to enlarge
Successful Internet Marketing Requires A Plan
To keep Local Internet Marketing for your Dermatology office simple, we look at what you must have to reach your online goals:
Your Website – Do you have one? If yes, is it ranking for the right keywords in your target area? If not, we do a thorough analysis, looking at why it is not ranking and we fix it!  If you do not have a website, we design and build a locally focused website that contains all the elements necessary to not only rank on page one of Google, but also encourage prospective patients to contact you.
Google Local Business Listing– To successfully market online in your local market, you must have a Google Plus account as well as a Google Local business listing. There is a right way to set up these accounts and a wrong way. Do it wrong and you may hurt your rankings if you receive a major Google penalty. The key to success is tying your Google accounts to your website. Unfortunately, many Internet Marketing companies still do not understand how to properly set up a Google local business listing so it ranks.
Social Media – This is no longer an option! Have you ever heard of the term Social Signals? Google has. Google is now looking at your social network and you cannot ignore the influence of social media as it relates to search engine optimization (SEO) and how Google ranks your content. We look at your target markets, and determine which social media outlets fit your Dermatology practice.
Content Marketing – Google has make it no secret that Content is King! To rank high and maintain those rankings over the long haul a solid content marketing plan helps you target more keywords as well as build your local brand and authority. Google is looking at what you publish, where you publish, and how often you publish to determine if you are an authority in your local market. Using powerful techniques like Google Authorship, we help you rise to the top as an authority in your local market.
Local Directories – Expanding your reach in the local market online requires that you be listed in as many relevant local directories as possible. Not only do potential clients use these websites to find local businesses, Google is also looking at these listings and the more Google Places Citations you have the more it will help you rank.
How will Local Goldmine help your Dermatology Office attract more patients using Local Search Marketing?
First of all, we never talk about cost or strategy until we have completed a full situation analysis. Just like an orthopedic surgeon uses an MRI to isolate a knee problem before doing surgery, we take a comprehensive look at:
Your website – content, on-page and off-page optimization
Your Google local business Listing(s) – you must have this in 2016
Your target area – this is the basis of your local search strategy
The current online competition in your target area
The best keywords for your practice and target areas.
Understanding Search Engine Optimization (SEO) and how it affects Dermatologists.
The fact is, people use the Internet to find everything! Whether it is a local restaurant or a dermatologist, people like to use technology to easily and quickly gather information.
This means your local online presence must stand out above your competition if you hope to effectively reach these searchers and get their business.
Unless you have multiple locations, Google will only display your Google business listing in the city your address is in. This creates a marketing problem if you market to surrounding cities.
This is where a real Local Search professional can help you.
Are You Targeting Your Best Prospects First?
Using what is known as hyper-local marketing we create an online presence in all of your local search areas and ensure that your local landing pages appear on page one for your target cities and neighborhoods.
Targeting keywords for the services you provide.
Everyone knows that 'dermatology city' and 'dermatologist city' are popular keywords and the competition to rank for them is usually pretty fierce.
Why stop there! It amazes us how many SEO services totally ignore prime and very valuable keywords that describe your services.
The fact is, our keyword analysis has found that many prospective clients will search for a specific treatments online, such as,
cancer screening, Botox, Juvederm, cosmetic dermatology, etc…
Combine your specific treatments and services with hyper-local search marketing and you will have a powerful local search presence that generates leads.
If You want to dominate your local market online You MUST think outside the box!
Competition for dermatology related keywords is too fierce to just do what everyone else is doing! To effectively beat your competition online, you need to do it better.
While so many SEO companies are stuck in the rut of doing the same thing, you need to step out and do things differently if you want to overtake your competition online.
With over 20 years of local Search marketing experience we look to the future and what is working now, not last year!
Here is just one example of doing what works versus what used to work on Google!
Chances are you have a "Before and After" photo galleries. Do they show up in the search engine results?
No they don't! Yet, our research has shown that many prospects will search for 'before and after' photos of specific procedures. We have a super powerful technique that none of your competition is using and we guarantee it will put you above them in Google when implemented.
Video SEO Marketing For Dermatologists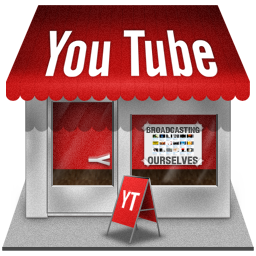 Dominating page one of Google for the best keywords requires that you do things that Google likes and rewards with high rankings.
Google loves to rank videos! They own YouTube and a properly optimized YouTube video can easily outrank web pages.  We can prove it!
Video is the fastest growing online medium because searchers prefer to watch video and will take action!
Many SEO services offer video, but are clueless when it comes to Video SEO. What good is a video if nobody sees it?
Are you thinking outside the box when it comes to local SEO  and video? We are!
Have you thought about turning your "before and after" photo galleries into "before and after" videos and putting them on page on of Google?
Are You Ready To Put Your Practice On Top of the Search Engines?
If you would like to learn more about how you can take your Dermatology practice to the next level and use the power of Local Search Marketing to attract new patients give us a call.
The first thing we will do is complete a full online analysis to determine your strengths and weaknesses.
Once we determine what is wrong we can work with you to fix it, We offer complete online marketing plans designed to give you the best opportunity to increase your online exposure and attract more patients. After all, isn't that what you want?
Contact our Local Search Specialist and get straight answers about what your Dermatology Clinic needs to do to attract more patients online!
Call us at (8oo) 506-9848 or just request a Free Local Search Analysis by filling out the simple form on this page.