Why ranking your Google My Business Listing on page one of Google should be a priority for every local business that needs more leads and customers!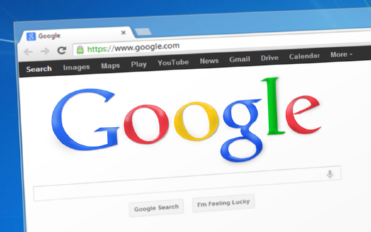 As a small business owner you are always looking for ways to bring in more customers and increase profits.
Your business probably already has a website, and if you are serious about growing your business, you are either working to increase visitors or paying a Local SEO company to do it for you.
Local Businesses the appear in the Google 3-Pack of the search results get more phone calls and customers!
At some point in time, you (or your local SEO agency) created, claimed, and verified your Google My Business listing.  Unfortunately, for millions of business owners and even large multi-location companies, that is where it ends.
That's right!  There are millions of Google My Business listings on the Internet just sitting there collecting cyber dust. You may be thinking to yourself, so what, I don't see the importance of it, so why pay much attention to it.
Why Your Google Business Listing is one of the most important digital assets you have in your online marketing arsenal.
Over the past 10 years your Google My Business listing has changed names, locations on the search result pages, and above all, relevance regarding its worth to your business.
Why should I care if it doesn't generate phone calls, or bring me more business?
The recently launched Google mobile first search algorithm is quickly changing the value of your Google Business listing. In today's overcrowded online marketing arena, local searches are now dominated by mobile devices and Google is focused on giving these mobile searchers the best display of information possible.
The Google My Business 3-Pack on Page One is Prime Real Estate in the Local Search Results
Do a local search on your mobile phone (not your desktop). Check out the results.
In most cases you see a flurry of Google Pay Per Click Ads as you scroll down and then BOOM… the Google 3-pack displaying 3 local business listings appears. Scroll a little further and you get to the organic listings.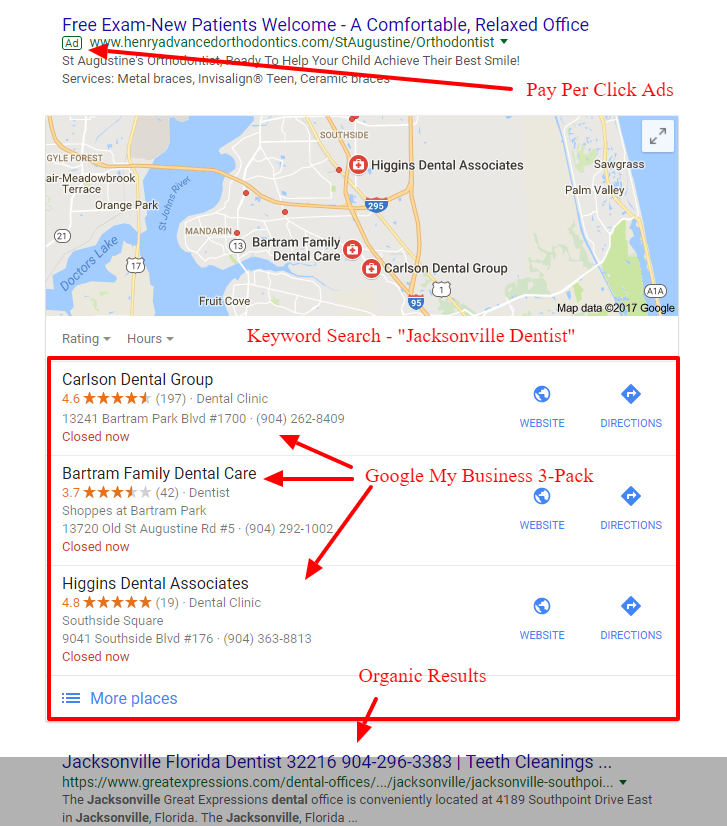 The fact that Google thinks the 3-pack is important enough to put on the page one search results should send a clear message to all local business owners that this can be a serious lead generator for your business.
Most small businesses are not paying attention to their Google business listing and it is costing them money. Google has been urging business owners for the past several years to claim and verify their Google business listing, yet millions of businesses still have not.
Sad as it sounds, many of the businesses that have verified their business listing are not paying much attention to it, and the result is, many have outdated or erroneous information, incorrect hours, old photos, and unanswered reviews. This is a real problem because they are missing a huge opportunity to cash in on some serious leads.
Increased activity on the Google 3-packs seems to have gotten the attention of the people at Google.
Although Google My Business Listings is a free service provided by Google, they have been actively making changes to the business listing and adding new features to encourage business owners to remain active in keeping their business listing updated and current.
It appears that Google is paying more attention to the business owners' activity on their Google business listings, and it may start having a big influence on the 3-pack rankings.
Google has already advised businesses to update their photos on a weekly basis, and to remain active generating and answering reviews.
I believe this has a lot to do with them wanting to improve the user experience of mobile phone searchers. When crappy listings appear in the 3-pack or Google maps, it hurts the user experience and in turn, hurts Google.
A stale Google business listing with wrong hours, bad phone numbers, or old addresses, is a poor reflection on them and it also hurts the local business that is not keeping their business listing info current.
Is Google sending a message to local business owners to get more active on their local business listing?
With the recent release of Google Posts and now Google messaging, it appears they are providing new tools for business owners to use, which in turn assures them that business owners will be staying up to date with the information on their business listing.
When Google sees you are actively using Google posts (7 day expiration date on promotions and sales) and using the new instant messaging service, they also assume you are probably keeping your information current and accurate, as well as answering reviews as they come in.
When Google does something to enhance your Google My Business listing portal, it usually means that people are using the business listings and they want it to be accurate.
Google added a new easy access banner to help businesses access their business listing much easier.
Another strong signal that Google is paying more attention to your Google business listing is the fact that now when you are logged into your Google account and using the search engine, a blue banner appears giving you instant access to your business listing for immediate updating and uploading. Google is actually making it easier for you to access and update your listing.
What does this mean for business owners that market to a local area?
Mobile search is now king, and as people search for products and services in the moment, from wherever they want, whenever they want, the ability to appear in the Google 3-pack results can mean a flood of new business.
My clients have seen a huge increase in phone calls when they reach page one of the business listing results.
The key to success is understanding the Google guidelines regarding the set-up of your business listing and how to properly optimize it so it has a better chance of appearing in the very competitive 3-pack on page one of the search results.
How do you know if your Google My Business listing is claimed and verified?
Do a search for your business name and the city you are located in Google. Chances are, your business listing panel will appear on the right side of the search results.
If you see a text link the reads "Own this business? Claim it now" you have not claimed it yet.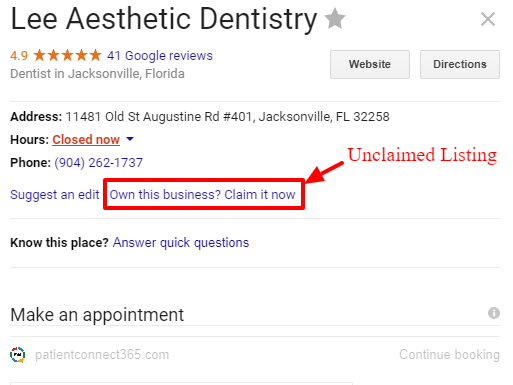 Next, do a search on Google for your top keywords with your city name (example – dentist Jacksonville) and see who appears in the Google 3-pack results.
Then click on the More places link under the 3rd listing. This will take you to a page with a column of local business listings. Scroll down until you find your business listing. (Go back up this article to the first image and you will see the More places link location under the three pack results.)
Where does it rank? If it is in the top ten with a little work you may be able to crack the 3-pack. If it is way down or on page 2 or worse in the results, you have a serious problem.
If you cannot find it at all, there may be a Google penalty at play or you may be violating some Google guidelines which may be keeping your listing from showing up in the search results.
Either way, you should take action and try to increase the value of your business listing to reach more interested prospects in your area.
It is important to take care of this asap and if you are not an Internet marketing expert, you may want to consider spending some money to have a Google business listing specialist set it up for you to avoid doing it wrong or worse yet, violating some Google guidelines.
Ignore those constant Google My Business listing telemarketing and Robo-calls – they are phone scam artists
If you own a small business you probably get phone calls every day from telemarketers warning you that your Google business listing is not claimed, at risk of suspension, or some other scare tactic to get you to interact with them.
Don't do it, it is a scam and you will end up paying a large sum of money and get nothing in return.
Here is a Youtube video I recorded 2 years ago that is still valid today – Google my business listing phone scam
The Competition for more online exposure continues to increase every year!
The fact is, there is a lot of competition in most local areas, with everyone trying to steal customers from you. In this age of mobile searches and what Google calls real time, intent driven micro moments you do not have a lot of time to get people's attention and get them to contact you.
An important fact that local businesses need to realize is that over the past several years, Google has reported a huge increase in "near me" and "voice driven" searches, meaning most mobile searchers want info instantly and they are ready to take action.
Google has stated that today's active buyer wants information fast, and they are not as brand loyal anymore. This means you need to be there when they search with accurate business information and a solid review profile.
Google has a very active review system and many people rely on it before making purchase decisions. Online reviews have become the new word of mouth, and people trust online reviews as much as they do referrals from friends and family.
Imagine having a top 3 pack rank with lots of eyeballs, yet a lousy review profile. You will be seen by a ton of prospective customers, but don't hold your breath waiting for a flood of new business if your review profile stinks.
Is increasing business and getting more online exposure important to you?
If you are so busy you don't want any new business, then just ignore this article and keep doing whatever you are doing.
However, if you are like most business owners and want to increase your online exposure and put your business in front of more prospective customers, you should start paying more attention to your Google business listing.
There is a very good chance that in the mobile search results, it will appear higher than your website and you may be losing business to your competition.
Your website is still an important digital asset and probably will be for a long time. That being said, it is time to look at the changing landscape that the flood of mobile searches are bringing, and start taking advantage of a powerful digital asset right at your fingertips.
With the rapid changes occurring online, and the unpredictability of Google, it is hard to say what will be happening online in the next few years, but one thing is clear, Google is paying more attention to the Google My Business listing area of their search results and so should you.
Need help with your Google My Business Listing(s)?
If you have made it this far down on the page you probably realize that you are missing a huge opportunity to increase traffic to your business. Whether you have one location or 500 locations, it can get pretty intimidating trying to get everything right and get your listing to rank on page one of the search results.
With Google now putting a priority on activity, do you have time to update photos, create Google posts, monitor and respond to reviews? This must be considered if you want to compete for one of those spots in the highly coveted Google 3-pack.
It may be time to find someone that specializes in this area of Internet marketing to help you.
The biggest problem I see out there is that just like many business owners, many search engine optimization experts have not paid much attention to Google business listings either, and may not have the experience or expertise to properly help you.
Make sure that when you reach out for help you are speaking with someone that specializes in Google business listing optimization. (it's definitely not those telemarketers or robo-calls either)
Get Help With Your Google My Business Listing and Maps Listing
In conclusion, take control of your Google business listing and start taking advantage of the opportunities it creates for your local business.
Online mobile searches will continue to grow and as long as Google keeps putting local business listings on page one, the businesses that take advantage of its value will continue to get the leads and phone calls.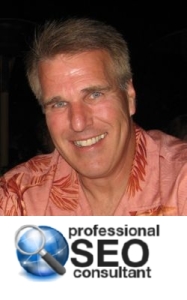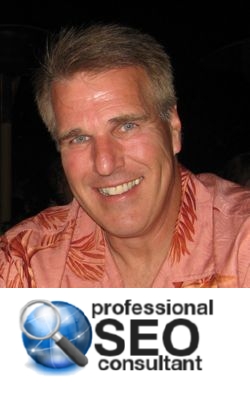 About the Author: Jeffrey Taylor is a Local Search Specialist and the CEO of Local GoldMine LLC a digital marketing company that specializes in local search.
Jeffrey has been doing Local Internet Marketing since 1996 and has been working with Google business listings for 10 years.
He has helped everyone from large national franchises with hundreds of locations, down to small mom and pop stores, fix and rank their Google My Business listing on page one of Google.
You can reach him by going to www.LocalGoldmine.com . Whether it is a simple Google related question or you need serious help with your Google business listing, he is always available to chat.