Reach More Local Customers using the Power of Content Marketing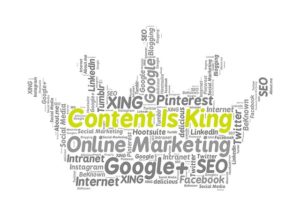 Content marketing is now one of the most powerful online marketing strategies a local business can employ as Google has made it clear that it will reward websites that produce fresh and relevant content on a regular basis.
Content marketing is not just for the big brands anymore!
The truth is, as a local business you have a very unique advantage over the major brands because you can present content to a very local market area and more easily target specific cities, zip codes, and neighborhoods with content about your products and services.
What is Content Marketing and how do we help you use it to attract more customers?
Content marketing is an ongoing marketing strategy that relies on producing high quality content to attract, educate, and convert the viewers it brings to your website.
The goal is to target popular keywords (products, services, cities, zip codes) create high quality content, post it on your website, and distribute it around social circles and other online websites.
When done properly your content will appear in the search engine results for the targeted keywords and draw interested prospects to your website and once there, you have an opportunity to inform and convert them.
As a small business in a specific market you will benefit by reaching more prospects for more search keywords in more cities.
If you draw customers from a wide area outside your home town you must use content marketing because Google only recognizes you in the town you are located.
Content Marketing for a local small business can include:
Blogging & Articles on your website
Distributing the Content on social media sites such as Linked in or Facebook
Creating videos
Image optimization and distribution
Lead Generation
Newsletters
Landing pages
Stop Focusing On a Few Keywords!
Too many local search specialists focus on a few keyword phrases to rank your website for. Sometimes they choose easy keywords to rank for that receive little or no traffic.
What if those keywords are not  attracting serious prospects? Why would you want to ignore hundreds of other relevant keyword phrases that your prospects are using and lose their business because you did not show up?
Content Marketing when combined with Local SEO allows you to target numerous keyword phrases with better results!
At Local Goldmine we help you target numerous keyword phrases by working with you to provide content on a continuous basis.
Here is how local Content Marketing helps to grow your business:
Create relevant content around your products, services, and target cities designed to answer questions, solve problems, and compel visitors to take action.
Optimize that content so it is focused on your local market and targets the right keywords.
Distribute the new content around the Internet using Social media outlets and other powerful marketing mediums.
That is what Google wants!
Example: We have a client that before we implemented a content marketing strategy was only targeting 4-5 keywords in his local market areas and was receiving very little traffic. After 3 months of Content Marketing he has more than doubled his traffic and is now being found in Google for over 178 keywords!
Why is content marketing the most effective way to do small business local online marketing in 2017?
Google has made it clear that all the SEO tricks people have been using (building thousands of back links) are not going to work anymore. They have said straight up that they are looking for fresh and relevant content that people actually enjoy reading and find useful.
They are also looking at Social Signals which is how many people on social networks like Facebook, Twitter, Google Plus and YouTube are sharing, viewing, liking and re-tweeting your content.
A Simple Explanation of how CMS helps you target more keyword phrases.
Each piece of content we  create and distribute online has a specific purpose. It is also targeting keyword phrases that searchers in your target area are using to find your type of business.
Blog Posts/Web Pages targeting more specific keywords such as individual services. This is by far the most important part of a small business content marketing strategy. Every time you add a keyword targeted post, your website gets bigger and Google sees fresh content. Google loves fresh content!
Video Content – If a Google search for specific keywords brings up video, there is a huge opportunity to grab a page one ranking if you produce and use video SEO properly. Consumers love videos and a clear message with a call to action can generate a lot of leads to your business!
There are also other Content creation strategies that help you implement small business SEO and increase leads and customers to your business.
Article Marketing, Press Releases, Image SEO, Social Media, and micro blogging are areas we like to focus on.
Content Distribution is the key to back links and exposure!
Just creating content is useless if you do not have a distribution strategy. We use a carefully designed distribution strategy that distributes your fresh content around the web through various Google friendly outlets. Building back links and creating social signals must be done at a steady pace and target places that Google considers reputable.
Are you ready to rank your local business for more keywords in more cities using the power of local content marketing?
Get a Free Small Business SEO Consultation from LocalGoldmine.com and find out if it is a fit for you!
Call us today at (904) 796-8527  or fill out the Form on this page