Why? Because Google says so!
Google has made it no secret that they are no longer ranking poorly designed websites on the mobile device search results. This means a searcher may be standing 1 block away from your business and their smart phone search results will not include your business.
That's right! In case you didn't hear back in April of 2015  Google released a major update unofficially named Mobilegeddon with the intention of punishing non-mobile friendly websites.
Google is serious about making local search easy for mobile device users because mobile search is huge and growing by leaps and bounds. 
Did you know…
Over 60% of all Internet searches are being done on a Mobile device.
Over 85% of Mobile phone users are looking for local information.
Does your website pass the Google Mobile friendly test? Take the test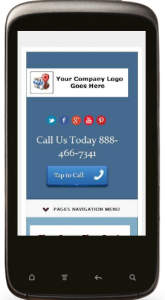 Don't Take our word for it, listen to what Google has to say about Smart Phone searches!
Google recently announced that according to their search records 61% of  mobile phone searchers will leave your website before taking action because:
Too cumbersome

Hard to read

Hard to navigate
What does this mean for your small business?
It's really quite simple. If your current website isn't mobile friendly you are losing customers!
You need a mobile responsive website!
A mobile responsive website is one that automatically determines what type of device is reading your website and responds with the appropriate screen layout. Try pulling up your website on a smart phone like a droid or I-phone. How does it lay out? Can you easily find important contact devices, like a phone number, contact form or directions?
You cannot ignore this because mobile phone usage is growing so fast that most small businesses have not reacted yet.
Let's use a restaurant as an example of what a mobile responsive website should do for the searcher. First of all, most mobile are less concerned with looks and more concerned with ease of use..
They want to know what your hours are, where you're located, any special offers or coupons you are offering, how to make reservations, and want a look at the menu. A small business mobile website should also have a tap to call device so they do not have to remember your phone number. Just push a button and the number is dialed!
Many Mobile Device searchers are ready to take action!
Chances are they are already on the road and searching for your type of business. With so many choices online nowadays, you only get one shot at their business. A frustrated mobile searcher will quickly leave your website as  evidenced earlier by Google's findings.
Are You Ready for a Mobile Website that delivers more customers?
Don't pay too much for a mobile website that does not deliver customers!
We know what you need on your mobile website to help your small business turn searchers into customers.
Multiple theme styles
Automatic Resizing – Menus, forms,images, text… everything resizes automatically and fits all smartphones.
Interactive Maps – Fully integrated maps and direction finder to help searchers find your business and get GPS guided directions.
Customized Forms – Opt in forms, contact forms, lead capture pages that automatically forwards to your Email.
Video – easily embed videos that are easy to watch on all smart phones
Image galleries – let searchers look at your photos without scrolling and re-sizing.
Coupons – Mobile searchers love coupons and it may be the difference between getting their business or losing them to someone else. Create Auto-expiring coupons
Social Media – send people to your social media accounts with customized icons.
Tap-to-call Buttons –  This is so important! Make it easy for searchers to contact you and they will!
Mobile Searches are huge and only getting larger!
Contact Local Goldmine today about getting your small business website mobile friendly!!