According to Google, over 97% of North Americans will search for a local business online first!
Is Your Google Local Business Listing ranking on page 1 when someone does an online search?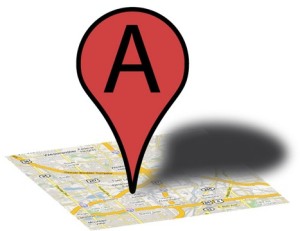 If the majority of your customer base is local, we strongly recommend that you claim and optimize your Free Google Local Business Listing as soon as possible.
Google has changed the name of this local service numerous times, so if you are a little confused it has also been called Google Places, Google Plus Local, and is now known as Google My Business.
We will update this if they change the name of its local listings again!
Your Properly Optimized Google Business Listing Means More Customers!
It is very simple. A potential customer does a search and Google displays its local listing results at the top of the search results page and the businesses that show up get more clicks!
It is designed to help people easily find businesses when they are searching in a specific local market from their computer or smart phone.
When your business listing appears on page one for the right search terms, you increase your chances of getting a click through and then a contact.
There are thousands of online directories, which one is the most important to be listed on?
To effectively market your business online you must be present in a host of directories such as Yelp, Yellowpages, Citysearch, Bing Places, and Yahoo Local.
However, the fact remains, Google is by far the most popular search tool for local searchers, and a high ranking in their local results, guarantees you will be seen by more interested prospects.
At Local Goldmine, we specialize in helping small businesses show up in the top rankings of the Google Local Listings results as well as all of the other important online directories. Ranking high in the top directories helps put your message directly in front of local searchers in need of the products and services you provide!
Let an Expert in Local Search Optimize Your Google Local Business Listing
To create, claim and verify your Google business listing, the process can be as simple as adding your company name, address, phone number and website. If Google has already created a listing for you,it is important to make sure it is properly optimized so you can claim and edit it.
When you use our Google Local Business Listing Service to optimize your Google Business Listing, it can be the difference between your business listing ranking on page one in the Google results or not showing up at all.
Our Local SEO specialists help optimize your Google Business Listing based on your most important products and services. We always start with detailed Keyword Research, and create your Google Local Business Listing so ranks for the most relevant as well as searched keyword queries to your business.
We focus on optimizing your listing for:
The right categories
Your Company Description
Your Google+ Profile
Consistency of your Name Address & Phone Number across the Internet
Pictures /Videos
Let our experienced Local Search Specialists create and optimize your Google Business Listing so that Google will better understand who you are, what you do, and where you are located, so your business can stand out in the search engines and drive more customers to your business.
Already have a Google Local Business Listing and Can't Find It?
One of the most common questions we hear from small business owners is "I know I have a business listing yet I cannot find it anywhere in the search results or on Google Maps".
Our local search experts will immediately look for the possible reasons why your business is not showing up.
The most common problems we find include:
Your Google Local Listing is not verified
Duplicate listings. (you may not even know they exist)
Heavy competition in the local listings for your industry and area.
Poor optimization of your listing, including inaccurate information
Violations of Google's quality guidelines, resulting in a penalty.
Find Out How Your Local Business Listing is Ranking vs. Your Competition
Is Your Small Business Listed in the Right Local Directories?
Our Local Search Business Directory Services help you increase your presence in your local market and get more eyeballs on your business listings. 
A recent resurgence of directory listings in the Google search results makes it more important than ever to have a strong presence in the main local business directories!
We have always told small business owners it is important to have a strong presence in all the local business directories like Yelp, Citysearch, Kudzu, Angies List, etc… Over the past several months our SEO experts have noticed that these directories are starting to grab page one rankings in Google.
Having a well optimized Google Plus Local listing is still the most important local business listing, but you cannot ignore the other directories anymore.
The answer is quite simple. Local Search Services that list prices and packages on their websites, are in a way, misleading you. The fact is, your business is unique and therefore the package you probably need is not a "one size fits all" package.
Fixing your current Google Places ranking or enhancing your local business listing requires a consultation first. We have one of the top Google Plus Local optimization specialists in the country and he has made it very clear that there are way too many different scenarios that can affect your Google Local Business listing.
Here is what Google Plus Local Specialist Jeffrey Taylor says,
"Google has made it extremely difficult for local businesses to understand how Google Plus Local (Google Places) works.
They are constantly changing the rules and even the most simple and innocent looking mistake can cause your listing to be penalized.
To make things worse, when Google moved from Google Places to Google Plus Local last year, many bugs in their system have arisen. These bugs are ongoing and new ones pop up all the time.
I spend much of my day online with Google and scanning information sites keeping on top of what is working and what the latest Google reports are.
Without this knowledge, you are taking a huge risk trying to do this yourself. Unfortunately, I spend more time trying to fix mistakes made by business owners or SEO companies that simply are not in touch with the latest news from Google.
I also receive calls from SEO services that need help because they do not have the resources to fix many of the latest changes or bugs associated with the Google Plus Local algorithm.
My advice to all small business owners is to get a consultation before doing anything related to Google Plus or your Google Plus local business listing. Doing this on your own, using outdated information or optimization tactics, could do more damage to your business listing than good. 
If you have a local business listing that has numerous problems, (changed address, new phone number, change of ownership, duplicate listings, etc…) what we need to do may take more work to clean up, and will obviously be a little more in cost.
We have heard numerous stories from small businesses that paid for some cheapo local SEO package only to find out that there were major issues the SEO service did not know about until afterwards.  
Unfortunately, in many cases the local SEO company they hired realized they could not fix the problems at the price they quoted and just quit doing the work."
Read this recent article by Local Search Marketing Specialist Jeffrey Taylor regarding Google My Business and how it effects your small business.
Click here to read the Google Plus Local Article.
Find out where your Google Plus Local (Google Places) listing stands first!
If you are a well-established business with no problems your cost will be much less. That is why we always offer our clients a Free Situation Analysis and evaluation before we talk about what needs to be done and how much it will cost.
Get a Free Google Places Situation Analysis Today!
Our state of the art software allows us to easily get a bird's eye view of exactly what is going on with your online presence and we share the results with you regardless of if you choose to employ our services.
Please do not hesitate to contact us with any questions. You will always talk to a search engine expert – not a salesperson!