Does Your Business Information

Accurately

appear online at the customers exact moment of decision?
The importance of local search and having a location data management strategy has increased tremendously due to the enormous rise of mobile device searches for local businesses.
Having the wrong information about your business in places on the Internet can leave customers upset and Google confused. Either way, your business will suffer.
Have you done any of the following to your business lately?
Moved to another address?
Changed or added new phone numbers?
Changed your business hours
Acquired or merged with another company?
Changed your business name?
Opened a new location?
If you answered yes to any of the above questions the chances are very high you have major Location Data issues online.
Consumers are searching more than ever and these searches are taking place from many locations like a car, a living room couch, or walking down the street.
According to Google, "Near Me" searches nearly doubled in 2015 alone, and mobile searches are growing at 146% every year.
Google calls these local searches Micro-Moments: The Point of Decision
This means your business must appear in the search results right at that moment of decision or you lose that potential customer.
What is Location Data Management and why is it so important to your business?
Local Search Marketing specialist Jeffrey Taylor recently posted an article on LinkedIn discussing some major changes in how people find local businesses.
Click Here to Read How Location Data Management Can Help Your Local Business
Multiple location Businesses MUST focus on Location Data Management
Single location businesses need to get control of their location data, but if you have multiple locations it is absolutely imperative that you analyse and fix any location data issues you may have.
In fact, the more locations you have the greater the probability that you have inaccurate or outdated information on the web. Going back to Google's focus on the searchers "moment of decision" you may not get a second chance to grab a new customer if your location data is faulty.
How Can Local Goldmine Help You Get Your Location Data under Control?
We specialize in Google Business Listings, Google Maps, Directory Listings, and Google Citation building services. Whether you have one location or thousands of locations, we find your location data problems and fix them.
Are you considering Yext to fix your location data and build more Google Citations?
Warning! Before you sign up for Yext Powerlistings Click HERE!
Understanding the Local Search Ecosystem and how search engines display your business information.
The image below illustrates how your location data is distributed around the web and how inaccurate or outdated location data can spread quickly.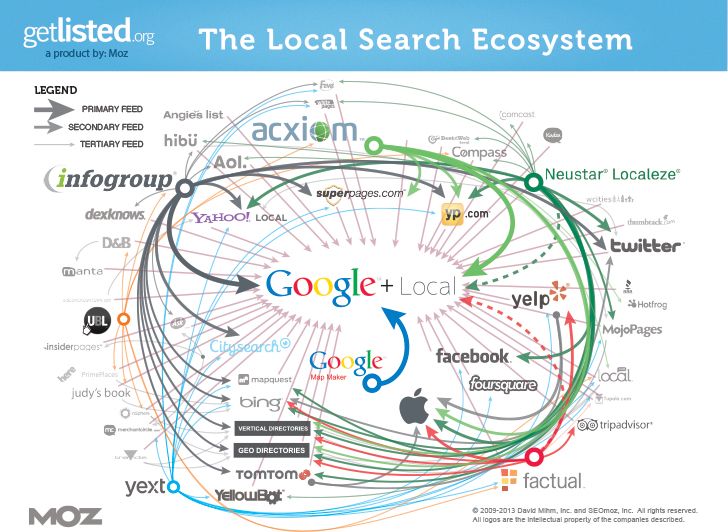 Getting control of your Location Data
As the discovery ecosystem continues to expand and consumers use search engines, maps, GPS, apps, and the latest search technologies that are emerging, you must look past the traditional days of desktop local search and organic search results to drive traffic.
All of these discovery outlets are constantly pulling location data from the web and pushing out information to consumers based on what they find. Getting your location data in order is not an option if you expect to show up during the prospective customers, moment of decision.
Here is how our Location Data Management service works for you.
You give us your location data for every location you own.
We do a complete analysis looking for inaccurate or outdated location data.
We develop a plan to fix and update all of your location data.
Let's Talk! We will give you a Free Analysis of every location you manage and discuss any location data management issues you have. This analysis takes a close look at how your locations appear in the Google search results, Google Maps and the main directories on the Internet. If we find issues, we will give you a fair price to fix them and help you develop a long term Location Data Management strategy.
Two Easy Ways to Reach Us!
Want to speak directly to our Local Data Management expert? Call Jeffrey Taylor in our St Augustine Florida office at (904) 796-8527. 
Can't call right now? Simply fill out the contact form and we will get back to you at your convenience.