Is Your Car Dealership Using Local Automotive SEO to Attract Leads?
Local Search marketing and Automotive SEO means using your online assets to reach out to potential customers in your local community. Depending on where your dealership is located, a local market can be a 5 mile radius or an entire state.
Big Big Changes in 2016 that Every Car Dealer Needs To Know About!
As you probably already know, traditional advertising does not pull the way it used to as more potential buyers are going online to do extensive research, look at customer reviews and gather information before deciding what to buy and where to buy it.
The big news is, Google has made major changes in 2014 and 2015 that effects every local business and if you are not already changing some of your online marketing tactics you will lose online market share in 2016.
Local Goldmine specializes in local Internet marketing and have been actively involved with the Automotive industry and how Car Dealers can use local Internet marketing to dominate their local market and sell more cars as well as increase traffic through their service department since 1996.
What Can Local Goldmine do for your Car Dealership?
Since 1996 our Local Search Specialist has always looked ahead to see what direction the Internet is moving and how you can stay ahead of the curve.
What is important in 2016 is understanding the drastic changes going on at Google and how customer habits are evolving online.
There are 4 very big changes that Car Dealers must be aware of right now.
1. Google Hummingbird Algorithm. Google has made it clear to all Internet marketers that they want fresh and relevant content on a regular basis.
They will no longer reward old stale websites that rely on gathering thousands of back links to gain authority.  Recently Google released an entirely new algorithm and it will affect the way you do content marketing.
The truth be told, most of the OEM websites do a very poor job of SEO and are limiting the amount of keywords your dealership ranks for in your local market.
A recent blog post by Local SEO specialist Jeffrey Taylor talks about the Google Hummingbird effect on Car Dealers.
2. Social Networks are more important than ever! Google is replacing its reliance on back links with Social signals. This means you must now start looking at social media as an integral part of your online marketing strategy. By moving Google Places over to Google Plus Local,
Google has made it very clear that they are looking at your social relevance and how many people are active in your social networks.
It is more than just setting up a Facebook Fan page, or a Twitter account. You must learn how to use these mediums to create interaction among members. That is what Google is now looking at!
3. Building online Social Communities. This is a big one! The Internet is all about communities.
Everyone on social media has small personal communities that they engage with. Photos are shared, comments are made, videos are uploaded and passed along form one social community to another.
When something is really interesting or provocative it goes viral as it passes through thousands of communities.
As a car dealer you must actively build your own social communities with people within your marketing area. Once you build social communities you must create content that engages these people and motivates them to share with their communities.
Do this right and you will build large and powerful communities that will result in increased sales activity at your dealership.
4. Your Google Local Business listing – This is where most car dealers are really losing market share and do not even know it. Sure, you rank for your brand in your local market, but that is because Google only has a few dealers to pull from.
Try doing a keyword search for "used cars your city" and if your dealership does not pop up in the local 3 pack it is probably because your listing is poorly optimized or may be under a Google penalty.
The fact is, almost every dealer we have worked with had Google business listing problems that were costing them rankings and leads.
Local Goldmine is focused on these 4 areas and has created a powerful and effective marketing platform to help you accomplish these very important goals.
To learn more  about how your Dealership can benefit from:
Macro Blogging,
Content Marketing,
Content Distribution
Local Automotive SEO including your Google Local Business Listing
If you need a local website or have one that needs help, we can do a free analysis and answer all your questions. Visit our Local Website design page and learn more about local websites and content marketing.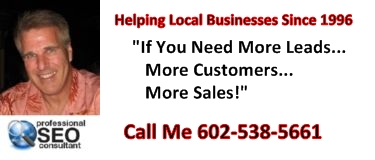 Jeffrey Taylor – Automotive SEO Specialist at Local GoldMine.
If you are tired of going online and seeing your competition ranking on page one of Google for Automotive related keywords it is time to take action.
Before you sign on with any Automotive SEO service that offers cookie cutter packages, get a Free local SEO Analysis and find out why you are ranking poorly and what you really need to do to put your practice in the local search game and win!
Simply fill out the form on this page and I will personally call you or contact me direct at 602-538-5661