Discover How Local Search Marketing GoldMine Will Help Move
Your Business To The Top Of The Google Place Search Results!
Important Message to Small Business Owners! On October 27th, 2010 Google made massive changes to their local search results when they launched their New "Place Search".
This entirely new way of showing local businesses has left the local Internet marketing community scrambling to find out what to do next. When Google makes a change of this magnitude, it sends out a message that they mean business. The SEO experts at LocalGoldMine have already adapted to these changes, and are ready to help you take your business to the top of the New Google Place Search!
To be successful marketing to your customers online in your local market there is a common formula that always works. The key is to know how this formula works and how to put it into action. With over 15 years of Search Engine Marketing experience, we know what works, and your business needs experienced professionals to get top Google Local Search rankings.
Every local business is unique and has a different situation. This is why we focus on 3 important areas based on what we see as the most common needs for small businesses trying to attract more customers using local Internet Marketing.
The Local Search Domination System -
Your Local Business Listing in Google Place Search
Problem: Your business may already be listed in many of the local directories and search engines. Have you claimed your listings yet? Are your listings properly optimized to show up in the search engine results? Are your listings consistent across the Internet. Are your listings in the right directories? Are your listings keyworded to maximize exposure? You must control your listings to get top rankings!
Solution: We have created a powerful, comprehensive, and effective Local Search Domination package designed to put your business listing in front of your best customers at a cost that even the smallest business can afford! For as low as $299.00 per month you can dominate your local search results and put your business on the path to attracting new customers!
Click Here for details and pricing about the Local Search Domination System
---
Affordable Website Design using Search Engine Optimization
Having a well designed, search engine friendly, local website is no longer an option! If you want your local website to achieve top rankings in Google, You Need To Get It Right The First Time!
The big changes in the New Google local search has made it more important than ever to have a website to compliment your local business listing.
Why is a website so important to Google? The old Google local search results are gone and the new local search results are giving local businesses with a well optimized local business listing and a locally focused website higher rankings than local businesses with only a local business listing and no website.
You DO NOT have to pay thousands of dollars for a local website that works! When you see how affordable this powerful package is, you will be reaching for the phone to get started!
If you already have a website and aren't really sure if it is set up for the new Google Local Search or you know it isn't, you need to look at Option 3 below!
Problem: The number 1 reason most small businesses don't have a website is cost! Most website designers out there know very little about marketing and design websites that have very little chance of ever showing up in the search engines for the keywords your customers are typing in.
What ends up happening is you pay a website designer thousands of dollars for a website that has no chance of ever making it to the top of the search engines and is not designed to be customer driven to create action!
Solution: With 15 years of website design experience, we will design a professional looking website, that is search engine optimized for the right keywords, and customer driven. After you see what we offer and how affordable a website can be, it won't be long until you have one too!
Our small business website designs start at $399.00 and we have very affordable monthly maintenance packages that include Search Engine Optimization and Hosting.
Click here for details and pricing about a Search Engine Optimized Local Website Design
---
Affordable Website Redesign that is Search Engine Friendly
and Locally Focused
Having a website is worthless if it is not driving new customers to your business on a daily basis.
We use a 12 point SEO formula designed by our 15 year Search Engine expert to determine why your website is not getting top raankings on Google.
The first thing we do is take a look at your current website and give you an honest appraisal. Don't feel bad if we tell you it won't work. Over 95% of local websites are not designed to get local search rankings.
Why? Most website designers know nothing about search engine optimization (many say they do) and build you a website that has little, if any chance of getting top search engine rankings for the keywords your customers are typing into Google.
Don't worry, we will optimize your local business listing and tweak your current website to match the right keywords and give it the local optimization changes it needs to be successful.
In more extreme cases we will need to do a complete redesign of the website. Unfortunately, there are times when we cannot use the format or structure of your current website to make it work.
Problem: You have a website and it is not generating traffic or new customers. Regardless of how much you paid, you need to get it fixed! Chances are, it was never optimized with the right keywords, has poor link structure, is not locally focused, and is not customer driven.
Solution: The first thing you need to do is get a Free Website analysis so we can isolate the major problems. Unfortunately, it may require a complete redesign. After we do an analysis your current website, we will determine what needs to be done to get it right.
The bottom line: Your website is a powerful marketing tool and should be making you money. There is no reason you should not be on top of the search engines and attracting new customers to your business on a daily basis!
We will give you a Free Website analysis and focus on 3 areas:
Keyword Optimization - Are your pages designed with the most popular keyword phrases placed We do keyword research to determine what your customers are typing in to find your business.
Page and Link structure - When the search engine spider comes to your web site what does it see? It is important to know that search engine spiders do not read websites, they read web pages one at a time. Your website must have a spider friendly link structure that encourages the spider to view every Poor link structure may mean that important pages do not get spidered and will not show up in search results.
Backlinks to your website - This is also known as off page optimization and is the most important area regarding getting top search engine placement. A back link is a link from another website back to your website. Google looks at back links from other websites as a vote for your site. When you have lots of quality back links google will push your site higher in the results. We will analyze your back links as well as your competitions back links and create effective strategies to get you numerous quality back links on a continuous basis.
Click Here for details and pricing about a Local Website Redesign
---
Custom Local Internet Marketing and Search Engine Optimization Packages
The above 3 options cover 95% of what most local businesses need to get top Search Engine results. We are a Search Engine Marketing company and we know that some business owners want to take Internet marketing to another level.
Contact us for a Free consultation and let's talk about:
Social Media - Facebook fanpages, Youtube Channels, Twitter marketing, Social Bookmarking
Backlink Building - Article Marketing, Online Press Release distribution, Blogging, directory submissions
Extreme Search Engine Optimization techniques
Email Marketing with Newsletters and Auto responders
Pay per Click - Google adwords, Facebook advertising, smart phone advertising
For pricing on custom Internet Marketing packages, contact us directly and let's talk!
Time is Not on your side. As more businesses become aware of the new challenges presented by the New Google Place search the competition will become intense. You have a fantastic opportunity to position your business on top of the local search engine results and stay there. Don't be that business that hesitates and must scramble to try and catch up!
Contact us today and let's talk about putting your business on top of the local search engine results and how it can grow your business!
Contact Local Search Marketing Goldmine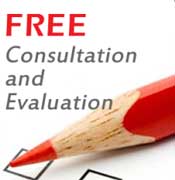 Another
Local Search Domination Success Story

Flo Pilates Studio
Virginia Beach, Virginia
When we created the Local search Domination system last year, we had one objective.

Help small business owners on limited budgets dominate the local search results and attract more customers.

When Teresa contacted our Virginia Beach office, her Pilates studio had no local web presence. Like most small business owners she is on a tight budget and wanted to create a local presence in the Virginia beach area.

She signed on for the Local Search Domination system and we immediately went to work for her. When we started working on this project she had NO local presence at all.

We determined that the best keywords to target in her local area were 'pilates virginia beach' and 'pilates studio virginia beach'. We found that the competition was very weak and put the Local Search Domination System into action.
After 2 weeks of using the Local Search Domination System: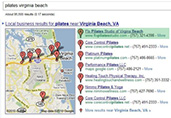 As you can see, her business is now located at the top of the Google Local Search results. Using our Local Domination system she will now have 1
full year of monitoring and updates.

We then went to work on redesigning her website and using keywords Pilates in Virginia Beach we are now working to get her number one rankings in the organic results in Google.

If you are interested in finding out how the Local Search Domination system can help your small business go to our Facebook Fanpage at Local Search Fanpage right now.

Jeffrey Taylor is a 15 year Search Engine marketing expert and Founder of Local Goldmine. He is located in
the Phoenix Arizona office
and can be reached at jeff@localgoldmine.com
"After speaking with dozens of website designers Local GoldMine was the only company that offered complete marketing strategies. Jeffrey Taylor is one of the most knowledgeable Internet Marketers I have ever spoken with."

Bob Kemery
Internet Marketing Director
Wellgenix Health