We Fix Broken Google Business Listings!
If your Google business listing is not showing up in the page one 3-pack for your top keywords, there is a reason. We analysis and fix your broken Google business listing so you can get on page one and enjoy a flood of new customers!
Don't have a Google Business Listing? Before you claim it call us! There is a right way to do this and a wrong way. Just verifying your listing through Google does not guarantee it will come up on page one of Google in your city. We are experts and have helped hundreds of local businesses optimize their listing and appear on page one.
With the New Google Local Search 3 Pack, having a Verified and Optimized Google Places (now called My Business) Listing is More Important than ever!
Which local Car Repair shops do you think are getting all the Phone Calls?
Major changes by Google in 2016 made it lot harder to rank your Local Business Listing on page one!
Click here to read our blog post about the new Google 3 Pack
At face value, creating your Google Places (Google My Business listing) is a very simple procedure.
You create and claim your Business Listing, fill in all the details about your business, wait for a postcard or phone call from Google and type in the verification code on your computer.
Sound's easy enough doesn't it? In a few weeks your listing climbs to the top of the local search results for your industry keywords and the phone starts ringing with new customers!
In a perfect world that would be all there is to it and you can easily save a few bucks and do it all yourself!
Unfortunately, in the real online world there are over 200 ranking factors in Google's local algorithm and quite a few outside elements that play a huge role in determining where your business listing ranks, or if it even shows up in the search results or the map at all.
Warning! Google Phone Call Scam Alert!
Are you getting phone calls everyday about your Google business listing? Are they telling you your listing needs to be claimed or is at risk of suspension? Read this blog post that goes into detail the facts behind the Google Places Phone Scam.
Watch this Youtube Video – Google Business Listing Phone Call Scam
If you have a Google business listing and it is not ranking on page one of the local search results, there is a reason.
At Local Goldmine our Google Places Experts deal with Google Local Business listings problems everyday and take pride in being able root out your problems, fix them, and properly optimize your listing so it ranks on page 1.
Why in 2017 is having a

well optimized

Google Places business listing more important than ever?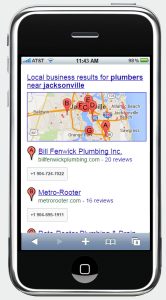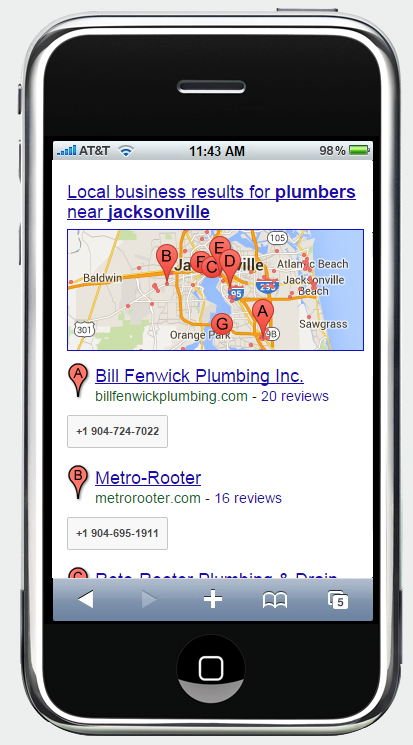 It is estimated that next year over 60% of all searches will be on mobile devices and Google places a priority on displaying local business listings on top when a mobile search is done in your area.
A properly optimized Google business listing that ranks on page one for the right keyword searches means more views, more leads, and more sales!
Are You Ready To Put Your Business On Page 1 of Google and Get your Phones Ring?
Here's how our Google Local Business Listing Service works
You contact us for a free consultation to discuss the details of your business. We will then do a search to determine your needs and what we need to do to put you in a position to rank on page one of Google.
In very rare cases we find a business that has either suffered a major Google penalty or has been a victim of an SEO scammer that has completely destroyed their chances of ranking without some long and extensive repairs. We are always upfront with our clients and in extreme cases, will not take on a project we are not confident we can deliver on.
Our Local Business Listing Directory service includes:
Situation analysis – There are strict Google rules that can cause penalties and in extreme cases suspension of your local business listing. We can't fix or optimize until we know exactly where you stand.
Set up your Google Account
If you have a Google account we fix it!
Claim, verify, and optimize your Google Business Listing
We will create a banner image and a profile image to place on the header of your Google Plus Local page.
Keyword research to determine your best search keywords
After determining your best keywords we will optimize your listing targeting those keywords and upload 10 optimized photos. We will discuss photos before we begin and recommend targeting your different services.
Set up Analytics to track your progress and best keywords
Comprehensive search to find all business directories you are already listed in
Register, claim, and optimize the top directory listings in your local market – Google Places Citations
We will show you exactly how to post new content to your Google Business Listing on a regular basis unless it is included in our final package.
Expert Local Search consultation
Connect your website to your Google account – This is one of the most important areas and must be done exactly right or you may never rank well
In today's highly competitive online marketplace you cannot afford to make mistakes when claiming and optimizing your local business listing.
What does our Google Local Business Listing Optimization Service Cost?
We understand that you are on a budget and want to keep the cost as low as possible without skipping any important tasks.
 Several factors will affect the cost for our local business listing service. Once we answer all your questions and do a thorough situation analysis we will give you a highly affordable cost for our services.
Beware of telemarketers throwing numbers at you without doing a situation analysis first. In most cases there are no major issues and we can do this for a very reasonable cost.
What should you do next? It all starts with a simple phone call and free consultation!
Contact us today via a phone call or fill out the form on this page and let's start out by talking about your business and current situation. We like to be very clear about what you should expect before we collect one penny from you.
After a conversation with a Google Local Listing Consultant. (no salesperson will ever speak with you) we will then do a thorough analysis and tell you straight up what to expect.
How long does it take for my local business listing to reach page one in the search results?
This is totally dependent on a few factors that include:
Your area and competition
Any previous Google penalties
Duplicate listings
Your website
Consistency of citations and accurate information across the web
Reviews
If you are under the impression or have been told by some fast talking salesperson that you will show up on page one of Google in a few days or weeks, you are being lied to.
We have been doing this for many years and have helped hundreds of small businesses rank. In very rare occasions you may see action in a few weeks, but in most cases it can take several months to get that coveted page one rank.
Not sure why you need Local Business Listings?
Before you invest one penny in Local SEO, you must understand how it really works!
There is a ton of information online about Google local listings, unfortunately much of it is inaccurate and misleading. Google changes the rules all the time and information from a year ago may be completely outdated.
Buying a 'do it yourself' program sounds like a good idea until you realize it is not current and there is no up to date support.
Click here for a complete overview of why you need a Google Local Business Listing if you are serious about bringing in new customers.

Your Business rank is not going to change until you take action!
Contact the Local Search experts at Local GoldMine today!