Is The Reputation Management Service You Hired Posting Fake Reviews On Your Google Places Page?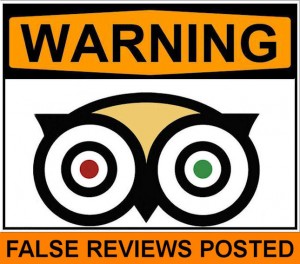 Unless you are brand new to the Internet, you have probably heard of reputation management and the importance of monitoring what people are saying about your business on the Internet. Much of what is being said about your business comes in the way of customer reviews, and most of these reviews are being seen on your Google Places business listing.
Google Completely Changed the Customer Review Rules in July 2011
When Google suddenly made their reviews the only listed reviews on their highly visible "Google Places" results it became more important than ever to encourage customers to leave positive reviews on their Google accounts about their experience with your business.
The fact is, potential customers will read these reviews and what people are saying about you can dramatically impact your business!
I spend  quite a bit of time checking reviews for my small business clients and their competition on Google Places and what I am finding is a rather alarming and ugly situation.
It is no secret that with the rise of importance of getting positive reviews for your business posted on Google Places, a cottage industry of review companies has sprung up.
Unfortunately, some of these review companies are using black hat techniques and putting the small businesses that use their services at risk of getting a major Google slap and possible legal action taken against them.
Buying Fake Reviews on Google Places is happening in almost every industry, and it may seem like it is working right now but it is going to unravel very soon!
Here is an Example of  Review Companies Posting Fake Google Reviews for Car Dealers: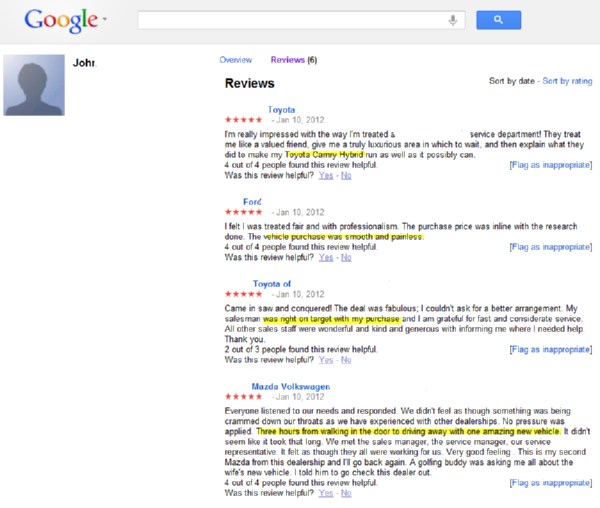 The fake Google profile in the image above bought 3 vehicles and got one serviced all on the same day. This profile had several more car purchases on it that I cut off, but I think you get the point.
This is NOT an isolated event or just one business.
I started digging deeper and found that every Google review for this particular group of car dealers were using the same profiles and receiving positive Google reviews for car purchases.
Posting Fake Google Reviews is not limited to the Auto Industry!
I am not here to pick on car dealers, because I found this practice being used for Attorneys, Dentists, Doctors, and the list goes on. I truly believe that based on the magnitude of this problem many business owners may not even be aware that they are buying fake reviews.
How do these Fake Google Review Companies operate?
Here's how it usually goes down. They contact small business owners and tell them they can bury their bad reviews or tell them that more positive reviews will help move them up in Google Places above their competition.
Yes, having more positive reviews in your Google Places can help raise your rank. But, Google reviews are only part of the Google Places algorithm that determines how high you will rank and for what keywords.
Their offer sounds great, because everyone knows that higher rankings means more traffic. They may even tell you that it is perfectly legit what they are doing.  Shame on them for lying to you. Shame on them for putting your business in jeopardy of getting penalized by Google or worse yet, land you a call from the FTC.
I have been doing Search Engine Optimization for over 16 years and I  know that if I use black hat techniques I am putting my clients in jeopardy and my lively hood in jeopardy.  Cheating Google may work for a little while, but once they catch you, Google justice will come swift and without warning!
Stop Posting Fake Google Reviews ASAP!!
If your business is using one of these fake review companies, talk your boss or the business owner right away.  If they are not aware of the shady practice they need to take action right away. If they are aware, then shame on them and they will get what is coming to them soon!
How to Find Fake Google Reviews in Google Places.
It is not very hard to spot phony Google reviews. Just do a local keyword search  in the industry you are researching and look for businesses with quite a few Google reviews and 4-5 star ratings.
Here is the key. Start clicking on each reviewers profile link and if you see a pattern of positive reviews that do not look normal, start going down the line of reviewers and you will see the same local businesses getting reviews from the same different fake profiles.
Another thing that I noticed is that almost every review makes mention of '6 out of 6 people found this review helpful'  or '4 out of 4 people found this review helpful'…..
Is this simply a Coincidence? Absolutely not!
I found dozens of  businesses doing this in a very short time of searching.  Honestly, Google is not stupid and they despise cheaters.  If I can easily spot this pattern, I am sure the spam police at Google already have and are taking steps right now to clean it up. If you are one of the small businesses caught, you will go online one day and find your Google Places listing pushed back to  page 20 or even worse, banned from Google entirely.
Google will not risk its reputation by allowing fake reviews to continue!
Google is all about trust. Do you think for one second they are going to allow the word on the street to be that you cannot trust the reviews on their Google Places results? Something is going to give and it will probably happen sometime this year. The fake review problem is already getting big and Google needs to get a handle on it asap!
According to the FTC posting Fake Reviews is Illegal
The FTC issued its guidelines in 2009 on reviews and testimonials, and they make it very clear what they deem "unfair or deceptive advertising".
A key rule: Any positive review posted by anyone connected to the seller – or someone – a business that receives cash or some form of payment – must disclose the relationship.
The FTC stated: "Anyone that uses someone else to "promote their products would be wise to put in place a reasonable monitoring program to verify…that they follow the principles of truth in advertising."
The FTC is sending a clear message to businesses…
It's never been more important to be 100% authentic in your review-gathering and Online Reputation Management – the penalties can be very large.
Never compensate in any way a customer or an affiliate for posting positive reviews
If someone's assisting you with Online Reputation Management, make sure you fully understand exactly how they are gathering the reviews, posting them and distributing them. They must to be real customers, and they have to post comments themselves.
That has not stopped businesses (many overseas) from springing up and offering business owners fake Google Places reviews by "real" Google users. The problem is, Google's history of spotting cheaters is very good, and they will spot them very soon, and what they do next may not be pretty for the violators.
If you don't think the FTC will catch you read this: http://www.ag.ny.gov/media_center/2009/july/july14b_09.html  A Plastic Surgery Franchise was fined $300,000 in 2009 for flooding the Internet with fake positive reviews!
What Will Google Probably do to Fake Review Posters?
You will start to see Google accounts either getting shut down, or even worse, the small businesses that received the fake reviews may actually be penalized through guilt by association.
Posting Fake Reviews on Google may be working right now, but not for much longer!
Don't think for one second that because it seems to be working right now that Google is not on to this and has already assigned a team of engineers the task of shutting it down.
Posting Fake Google reviews cannot possibly lead to anything good long term. It is short term thinking and I am sure that these phony review companies are looking to make money right up to the day Google shuts them down and then they will move on to something else.
What should you do to get real reviews?
There's nothing wrong with asking your customers to leave you a review. If you are doing a good job in your business you will always find satisfied customers willing to say something nice about you online.
Google is not the only review site online!
Even though Google has stopped showing reviews from the other review services, they are still indexing and factoring them in for rankings. So make sure you pay attention to other review sites like Yelp.
If you email your customers asking them for a review, don't just send them a link to your Google places page. Send them a variety of links to the various places you have a listing and give them choices.
In closing… do not let these scam artists promoting fake Google reviews con you into thinking it is okay to do. Posting fake reviews on Google will come back to haunt you.
In under than 2 hours of research I found over 50 local businesses using these fake review services. It is only a matter of time before Google makes a major algorithm change and suddenly many businesses will be scrambling wondering why traffic to their site and business has dropped like a rock!
My Final Advice to Small Businesses: Don't Buy Google Reviews!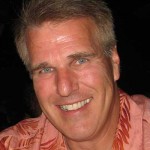 Jeffrey Taylor is a 16 year Search Engine Marketing expert and the Director of Search Engine Marketing for Local Internet Marketing GoldMine a Phoenix Arizona based Local Internet Marketing company.
Comments